JBL Paragon - D44000
Matt Garrett - Dallas Texas - 214-878-3823
I AM ALWAYS BUYING PARAGONS TOO!!!
This Paragon is currently being offered to other like collectors!
You can email me at Cadillacman@mcsmk8.com
JBL D44000 Paragon Speaker circa 1966... Click here for The Most Collectable Audio Piece on Earth
Available for the first time since the mid 70's is my 1960's vintage JBL Paragon. D44000 (Walnut). I am reluctantly downsizing my collection and am offering what should prove be as fine example of a Paragon available. Although nothing that is 100% original from 1966 is going to be 100% perfect, this unit as a whole is one of the most displayable and playable Paragons you will see. It will at least be the most documented Paragon in history! If one were to want a Paragon for museum, this one would be close enough without total restoration, and then it would not be original if you did that. No water stains, cup rings, vacuum cleaner hits, chunks, sun fading, etc. Always oiled, always cared for way beyond the call of duty. The convex refractor panel is virtually flawless, along with the teak legs. Flaws are near minimal and all pointed out to be as critical as possible as they do exist. Many of these miniscule flaws were probably there when new, but I got it in the 70s and it has not aged a day since. I have though. Every decorative item placed on the top over the years has felt protectors and it has always been that way. No restoration has been done to this unit and nothing is covered up!!!! I have a very detailed page here. I have done this so you see every inch of what this Paragon is and to eliminate any doubt if you are buying site unseen. If interested, please review as I think I covered any questions you may have. Thanks for looking!
Photo Information
Click here for 8 Megapixel High Resolution Photos of this Paragon!
Click here for Left Channel Details and Flaws Page!
Click here for Right Channel Details and Flaws Page!
Click here for Convex Refractor Panel Details and Flaws Page!
Please note! There are 3 groups of photos using 2 camera models and resolutions. The photos below on this current page represent daytime lighting and lower resolution. No flash is used. This is a more natural photo of the Paragon's color with afternoon natural lighting. These are how the unit is displayed in my home and give a good representation of a "total package". This is how the unit actually looks to a person as you walk into the room with no lights on in the day. The second group are 8 Megapixel Photos available at the links. These are huge and a flash is used. The color will look more rich and lighter in these but they are there to pinpoint any flaws as the unit is displayed in my home. The unit also looks like this when the room lights are on at night in person. You can zoom in on these and look at every inch of the unit as a whole. The 3rd is a combo of both cameras but the unit is moved out of the room and is a tear down of the unit and very up close photos of the flaws with nothing held back. There is a Left, Right and Center section, just click the links below or above. I use a bright flashlight to highlight the flaws as this seems to be the only way I could really get any depth in the photos. Not the most artistic or flattering view, but it allows all to be seen as accurate as I could find. Most of these pin pointed flaws look way worse in this manner compared to the total package pictures and their reality, but they are there to document up close the flaws in the unit and also to see the rear, the back removed, the LE-15s Low Freq, the 375s Mids, the 075s Highs, and the LX5 and N7000 X-overs.
Click here for 8 Megapixel High Resolution Photos of this Paragon!
Click here for Left Channel Details and Flaws Page!
Click here for Right Channel Details and Flaws Page!
Click here for Convex Refractor Panel Details and Flaws Page!
History and Background
Click Here! To See Entire Paragon with Marantz Components
I have been an avid audiophile since I was a kid, but have "matured" into more of a collector that also enjoys the display of this vintage equipment as much of the audiophile aspect this old stuff offers. A wife's dream come true, for those that are in this hobby and can relate! This is not some garaged or inherited speaker, but one that has been lovingly cared for all its life in a constant temperature environment. The front section of my home is also humidity controlled for items just like this Paragon. All components are original, the 375s and the 075s have never been removed, all wax seals are virgin and in place. The H5038P horns attached to the 375s are without flaw, the black crinkle finish is perfect and original, the gold front fascia of the horns are perfect. The H5038P's have never been removed or separated from the 375 drivers. Only the back has been removed and the LE-15s. I do have two sets of LE-15s, the original (BLUE 16 Ohm in photos) are what you get with the dated but still pliable Lansaloy surrounds in excellent condition. For use, I put a pair of mint recone LE-15s with modern surrounds in for my listening and to preserve the originals since they are really the only component that would fail over time in a Paragon. These recones are available in the unit if you would rather and are series correct too, but since most collectors are after 100% original, that is the way I am selling it with the originals back in place. I have treated the uncracked surrounds of the orignals by the Dot3 method before putting back in place installation and they move very free. I did this during the photos and documentation of the back side. Honestly I cannot tell any sound difference in the original Lansaloy LE-15 and the later recone LE15, so original is how it is with the mint Blue LE-15 16 Ohm. This is also a non-powered Paragon and has always been even though these 60's vintage units have provisions for mounting the JBL SE408S amplifier in them.
This speaker has been powered by my Marantz 9's since the 70's. No, not in triode mode as I like a little more power..... Below and above is a link to my entire system with this Paragon to see what its life is like. 8 years ago I remodeled the room it is in now, and that is how it has remained and will remain until it finds a new home. It was moved from another room in my home where it was in use in a larger system to this current setup. I got more wife friendly. Nothing else is, or will be for sale, this one Paragon is it.
Why am I selling????? Well Just FYI, I am lucky enough to have two Paragon's! One stays here! The other is stored in my climate controlled collector car garage and has been for 8 years. I don't think I'll ever get to put two back in use at one time as I had, so I am selling one of them, and reluctantly so. Not that I need the money for it, but I would like to see one get a proper home and have the remaining one stay in its proper home with me. I had a large system using most of my current equipment and even more with 2 Paragons and some HFs in the rear. It was quite impressive but a bit much looking back. I downsized to what I have now. The current setup sounds great of course, but I only have the memory of the former setup and its iconic glory. Both my Paragons are virtually exact and complement each other as a pair. That was their purpose. The stored is the same walnut and LE-15s too but is dated about 1969 as best as I can tell with these things vs 1965-66 on this one due to the fact this one has the Blue LE-15's and the other the Grey. This unit is # 364 as stamped in the top board on both halves. The other is stamped #740. If you follow the Paragon, this might be the serial # and it might not be depending on who you talk to, but the lower # is definitely the older. The stored unit is non-powered too. I have had this one, #384 since the 70's and #740 I got later many years back. If you are buying site unseen, and don't be afraid to do so on this, you are getting the one in photos from my current system due to the simple fact it is more displayable and easily documented. The other is packed away pretty well, and I don't want to get two out at one time unless you are standing in my presence or I sell one of them first. I you want me to ship this to you, what you see in detail is what you get exactly.
If you want to come pick it up, I'll let you pick the one you want just to give you a choice. They are both so close to the same in condition, it really matters not to me but this older #384 seems to be worth more money in the collector market for whatever reason even though they are the same. I intend to keep one forever now, so it matters not to me. Again, I have had them both for a long time and they were a matched pair on a single system years ago. I uncover the stored Paragon at least every year and oil it since it has been there. It will take this one's place when sold although it is no better or worse than this one by any means. Minor flaws are comparable on both as the both have their small issues, but both will prove to be the top examples of any Paragon seen. I am telling you all of this in great detail so you understand that I am not taking apart my system or getting out of the hobby, just selling one of my Paragons. I am sending you exactly what you see in the photos, one of the best Paragon's known!
Click Here! To See Entire Paragon with Marantz Components
Price and Terms
As far as price and shipping, this is what I am offering and my thoughts. I am asking a fair price of $19,000.00. My stance on this one is when you have looked at everything else, traveled the country, spend 100's of hours on the net, magazines, classifieds and still do not own a Paragon because nothing you have found will make you happy, here is your chance to buy one that will make you happy. When only the best will do, this will be a tough one to top in condition although it might be possible to do so if you take the rest of your life to find that lucky garage sale Paragon, but I think those days are long gone. This one is available now, is as good as it gets and retains 100% unaltered originality in the hands of someone who knows how to care for it. I am willing to help you get it too.
I totally realize that from 1998 to date roughly 20 Paragon's have surfaced on eBay sell between 9K-17K. None have ever hit even 20K through eBay even though the pristine examples are quoted to go for over 20K and have through other sources. Average eBay sales are 11K-12K for a complete Paragon. One in pieces with a broken convex refractor section brought 7K. That front board is irreplaceable so that would have been interesting even though it was a bargain. Mine is not a bargain, it is the real deal complete unit. Allot of those examples may have been EBay scams, so this may not be accurate as I have even found mine for sale a few years ago. Someone took my pictures off the net and offered if for sale out of Hong Kong. Needless to say I was a bit upset. Either way, I am 100% confident that none of those 20 that I have caught to date are exactly comparable to mine in condition as you are probably now aware. I do not think but one or two were sold by their actual owners either. Most were sitting in a driveway or garage of a friends friend and even in a yard or the back of a pickup. Many that were very damaged surpassed 10K. For 19K, you are getting a no excuse Paragon and I feel my unit can back up the price I am asking.
If you are in the Contiguous US, I will cover shipping to you at my price of 19K! If we negotiate anything different on price, shipping it your responsibility so that is well over 1K there in my price. If you are within 800 miles of Dallas, I will personally bring it to you and help you set it in your room. If that is the case, you can pay me when you see it. Lets talk first and I will work with you. If you are more than 800 miles or just want me to ship it, I will have it shipped by a very reputable service and insured at my expense. This will eliminate crating the Paragon and the guys I will get moving it know what they are doing as far as moving is concerned. Coast to Coast insured at 15K, is about 1500, so I am taking that hit at the price. Again, you are more than welcome to come get it right out of its nest. This speaker will remain in its show place, used weekly and enjoyed until someone wants to adopt it and give it a new home and allow me to put my other one in place or vice-versa.
Although I really hope this unit finds a rightful home in the US, I am open to work with international buyers. If you are not in the US, or are in Asia I WILL work with you and sell you this unit! If that is the case, the price is 19K, not negotiable if this unit is to leave the US. You will have to use the Buy-It-Now. I will require that all money hits my account before we do anything as I want to avoid any scams. As far as your protection, my eBay rating and references of people that know me in this hobby will insure that everything is on the level. Please check into it as much as needed to be confident. I will check up on all international buyers too, so be on the level. I will have to get the unit crated and that will be between 500-800 at best guess from checking. I will use an international shipper to send it to you. I will NOT do this for free, and you will cover the true cost of shipping and crating. I will give you my time free delivering to an exporter, etc. Even with that, it will probably be about 2K from my best guess but could be a little less if you shop around.
Sorry to get so winded on this, but I wanted to answer any and every question I would have myself in buying one of these. Please review the three groups of photos of this Paragon in its display in the day and at night with lighting and also the up close photos of the flaws. As you can see, the magnified flaws in the photos do not really show at all in the units display or will they in your display. I have tried to highlight them up as much as possible so you know exactly what you are getting. Nothing is perfect under a microscope, and this most certainly is not at that level, nor was it new. As a whole you are looking at one of the best, Paragon's to be offered for sale. I am as close to the original owner as you will find on one of this vintage that still uses it and cares for it with a passion. This particular Paragon has never been out of service or stored. Again, have no fear buying this unit site unseen. This is a true investment grade antique that will never lose its value. It can be passed to the next generation of audiophiles as even more of an icon than it is today. If you want to take the time to come see it, by all means I would love to meet with you and play it for you too. Just give me a shout!
You can email me at Cadillacman@mcsmk8.com
WARNING TO EBAY CUSTOMERS
I do not and will not use any "SECOND CHANCE" offers. I will talk to all perspective buyers in person. If you get a Second Chance offer, I can assure you it will be a scam from someone with low integrity. Please report it to eBay immediately and do not fall for it! Don't be a victim! Any transaction with me can be done at 214-878-3823, not through a fake email.
Click Here! To See Entire Paragon with Marantz Components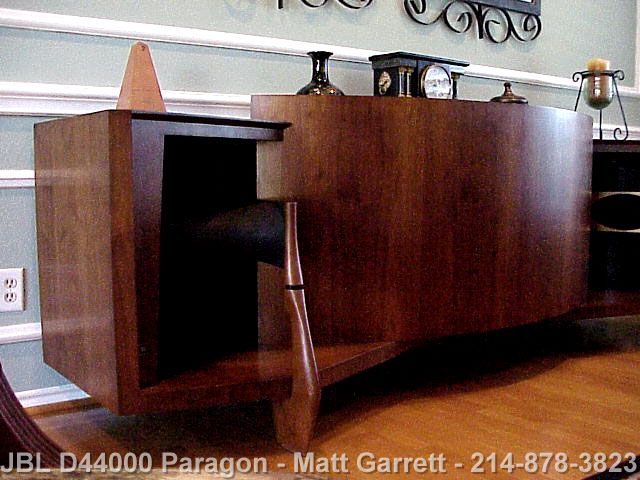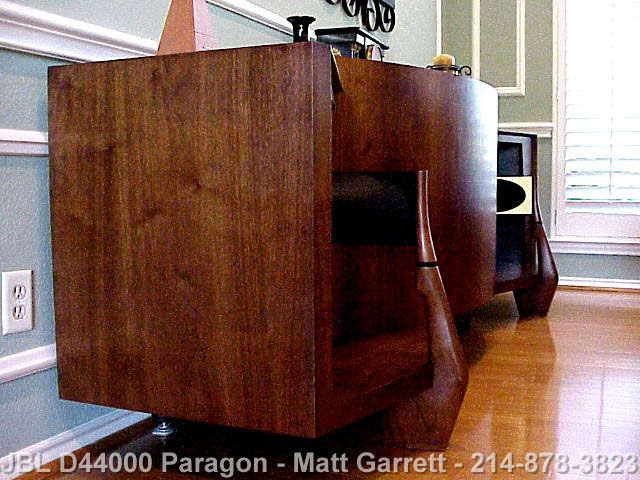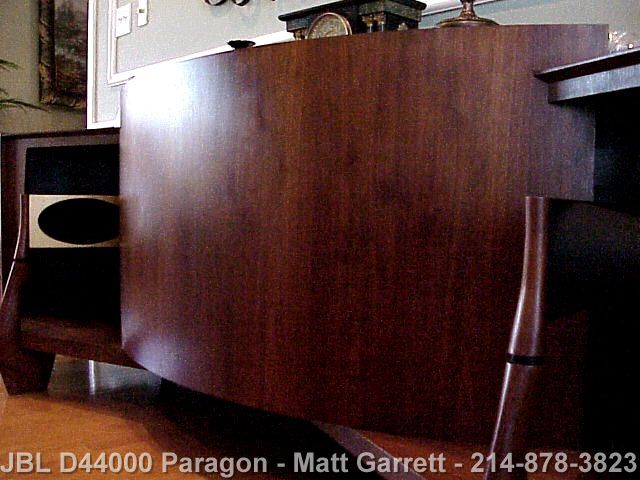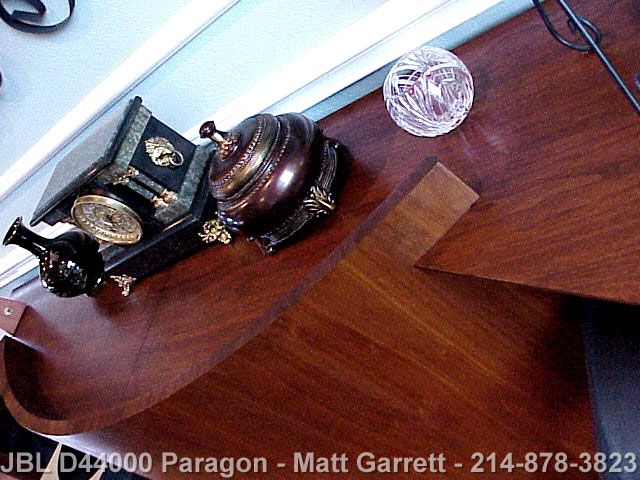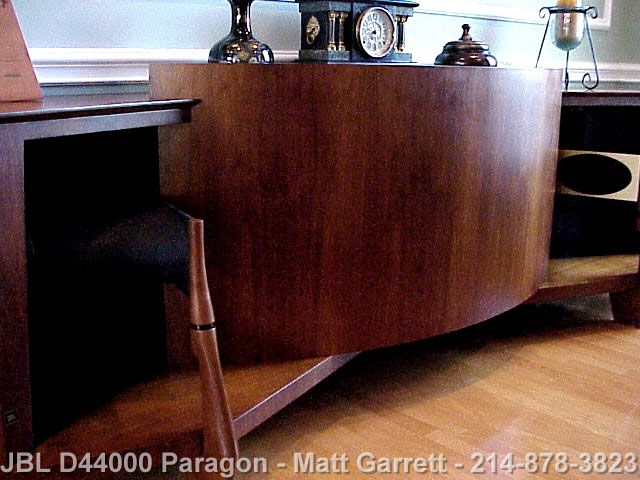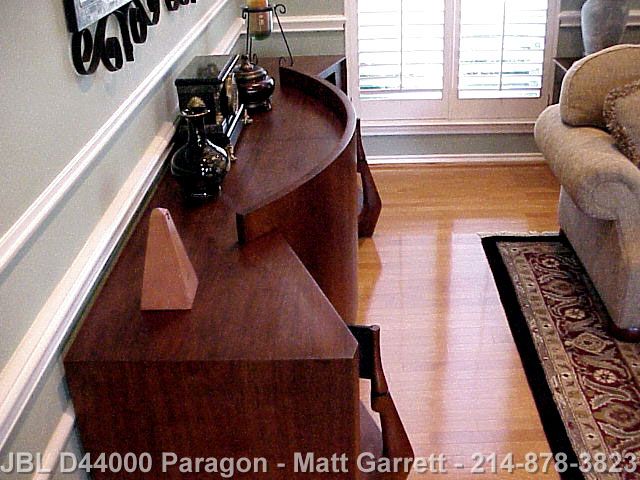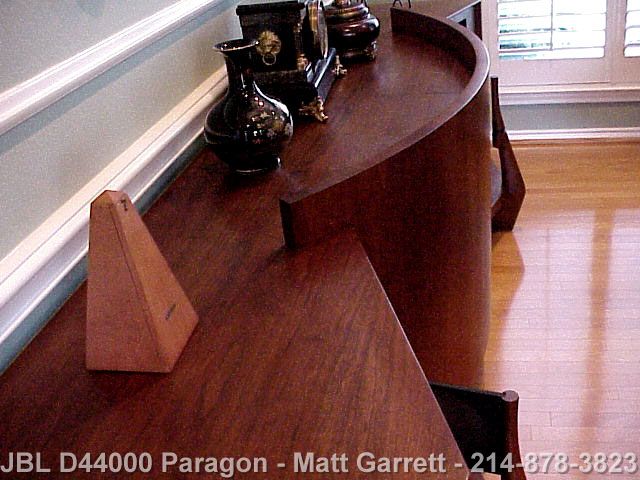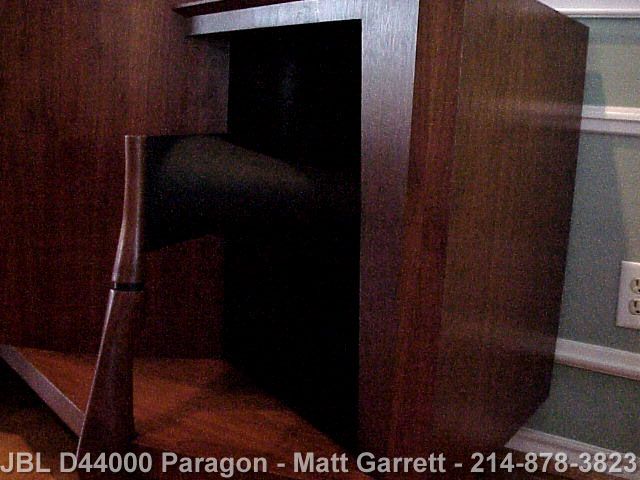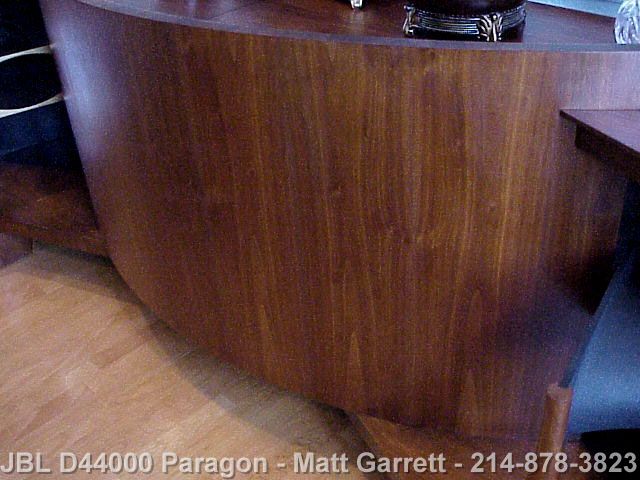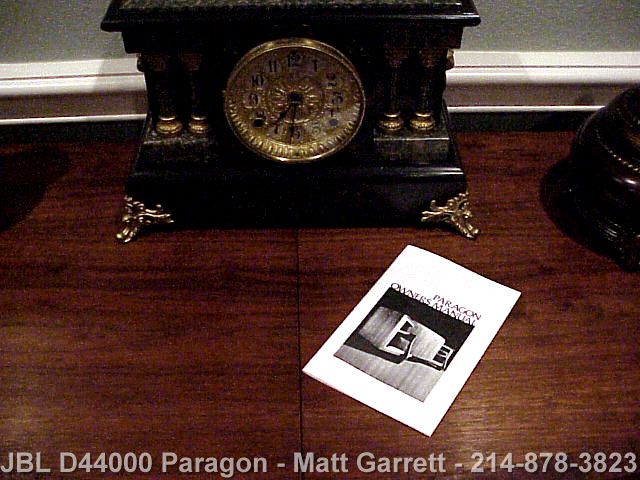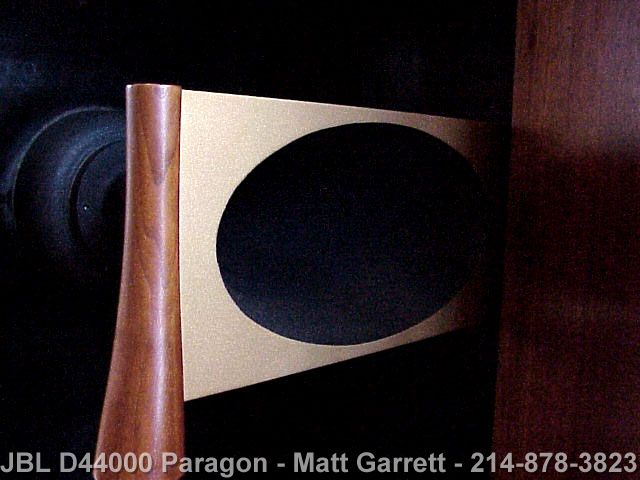 Manufactures Specifications
MAXIMUM RECOMMENDED
AMPLIFIER POWER 200 watts per channel
NOMINAL IMPEDANCE 8 ohms
DISPERSION 120 degrees
CROSSOVER FREQUENCIES 500 and 7000 Hz
SENSITIVITY 95 dB SPL, 1W, 1 m (3.3ft)
LOW FREQUENCY LOUDSPEAKER - JBL LE-15
NOMINAL DIAMETER 380 mm / 15 in
VOICE COIL 100 mm / 4 in
Edgewood copper ribbon
MAGNETIC ASSEMBLY WEIGHT 10.3 kg / 22 5/8 lbs
FLUX DENSITY 0.95 tesla (9500 gauss)
SENSITIVITY * 95 dB SPL, 1 W, 1 m (3.3ft)
MIDRANGE COMPRESSION DRIVER - JBL 375
THROAT DIAMETER 50 mm / 2 in
VOICE COIL 100 mm / 4 in
Edgewood copper ribbon
MAGNETIC ASSEMBLY WEIGHT 10.7 kg / 23 ½ lb
FLUX DENSITY 1.5 tesla (15,000 gauss)
SENSITIVITY 118 dB SPL, 1 W, 1 m (3.3ft)
HIGH FREQUENCY RING RADIATOR - JBL 075
NOMINAL DIAMETER 98mm / 3 7/8 in
VOICE COIL 44 mm (1 ¾ in) copper
MAGNETIC ASSEMBLY WEIGHT 1.5 kg / 3 ¼ lb
FLUX DENSITY 1.65 tesla (16,500 gauss)
SENSITIVITY (averaged above 4 kHz) 110 dB SPL, 1 W, 1 m (3.3ft)
FINISH Oiled Walnut
DIMENSIONS 103 5/8 L x 35 ½ H x 24 1/8 D
WEIGHT 698 lbs
Click here for 8 Megapixel High Resolution Photos of this Paragon!
Click here for Left Channel Details and Flaws Page!
Click here for Right Channel Details and Flaws Page!
Click here for Convex Refractor Panel Details and Flaws Page!
Click Here! To See Entire Paragon with Marantz Components
You can email me at Cadillacman@mcsmk8.com