You can email me at Cadillacman@mcsmk8.com
1999 Suburban! 2500 - 3/4 Ton - 4x4 - Vortec 454 - 4:10 Gears - HD Tow Package. Real low miles but I drive it a little. This is my trailer towing vehicle around town. Although I am by no means in the transport business, I have this to tow my cars when I need or load 8-9 people in to go around town. A trailer, a car dolly, to my warehouse and back, to certain shops, etc is what this HD suburban does and when its on the road, it represents GM-Classics.com as best as any vehicle could. I searched the country for the best and last of this body style which is the highest rated capacity suburban for towing . 100% original paint and pretty much darn near concourse quality, just the way I wanted as with all my cars. Very unusual to find a garaged and well taken care of HD suburban like this. In fact I have not seen another in this shape since 2000 or so. They are ALL used up and if they are "low mile", they are either weathered to death, have marginal repaint all over the place, or worse... rusted.... This vehicle is asked at least 4-5 times a month if its for sale... of course it is.... but you will have to pay me what I need to buy another just like it.. and with 10 years of searching for a comparable... its just not going to happen for either of us. If I had to sell every car I own... this is probably one of two that I would keep.
This suburban has the powerful Vortec 454 Engine, the HD 4L80 4 speed transmission, the 4:10 gears with locking differential and full floating diff, Tow package, Aux trans cooler, Aux Oil cooler, HD Cooling and booster fan system, HD front and rear springs and all the stuff to make this big rig last forever towing heavy loads. On top of all the good unseen hardware under hood and suspension, inside is loaded with all the good stuff like Dual Air and Heat, Premium sound with CD, Auto Select 4x4, Power Lumbar Seats, Power Windows, Door Locks, Keyless Entry, Homelink, and everything available with the exception of leather. I cannot tell you how big of plus that is! If it was leather.. I would have converted it to this interior the day I got it! Having all these collector vehicles with leather that can easily look older and more worn than the car actually is, this heavy duty cloth interior is a blessing. It makes you realize how over rated leather is and wonder why its popularity has not diminished to more high quality fabric seats. I see that in the future.
Despite its initial appearance to the layman, this suburban is pretty much stock. Its ride height is unchanged although most people think its lifted. Guess its because they rarely see a 3/4 ton suburban that is a 4x4 too with the real HD options. The wheels are factory GM wheels... yes they are..... What they are H2 hummer wheels in 17x8.5 wide. What makes them look totally different is they have a 3/4-1 Ton center cap in place of the flat hummer cap. Goes right in stock! What a perfect upgrade for any HD truck too as the H2 crowd is getting rid of these wide strong wheels for 24s and worse all day! Tires are Goodyear Pro-Grade Silent Armour All terrain E rated 80 PSI tires, both wheels and tires specd to keep with the vehicles rated heavy hauling specs. This is something many people commonly overlook on these HD vehicles in the area of saving a few dollars. These tires are very expensive.
I have added a larger rear sway bar to help this vehicles already underrated handling abilities. You would just have to take a ride to even comprehend.... It does things that defy physics.... No other suburban handles like these HD models, especially when set up like this one with the wide wheels. The Bilstiens are the HD versions, not the GM soft ones. I have added the rear "Correct Trak" spacer system that widens the rear offset to close match the front. Big improvement in looks and handling. If you are a truck fan you may know that this was a build error in the name of being cheap on GM's part on all 3/4 ton 4x4 trucks and suburbans up to even the latest in the 2500HDs. The big HD Dana full floating differential used in this optioned model and some newer HD trucks was more narrow than the front on the 4x4s and they did not have a specific Dana Differential made for the 4x4. They did on the little 1/2 ton, but not the 3/4 ton. I n the name of being cheap they just used the HD from the more common 2WD versions with a more narrow track for the 4x4 2500s. The result was a wider track in the front on the 4x4 and less in the back. Not a big deal, but in these cases its a drastic 4" difference. Even with the spacers, its still not the same as I would never put that wide of spacers on it, but it looks right and the Correct Trac parts keep all the load ratings too.
In the name performance and fuel economy, this truck has a 3.5" cat back exhaust system that adds to the fuel economy and power. I also have a hypertech programmer for it too. The programmer is great for the transmission as it allows it to shift really firm, thus lasting longer. Other than that, its 100% stock down to the air filter. With those two additions, the truck is supposed to have about 350HP and 450 Ft Lbs. All I can say, for a big beast, its pretty impressive in every manner. Guess that is why it can pull a 14K pound trailer around.
Now the big kicker on this is.... you guessed it, gas mileage...... It can pass just about any truck on the road including many "thought to be fast" cars too, but it will never pass up a gas station. How about 12MPG tops. Not good but there are worse things out there. Towing a load really does not change much on this truck as you may know, thus trucks optioned like this were only recommended to people that really towed things. Compared to some of the nice diesels out there, this 12MPG is not great, but when you figure some diesels get about 15MPG in reality, this gets12MPG and diesel costs more... The logic for me to stick to gas made since.... Especially as long as I let some of my vehicles sit in the garage like this one. Diesels do not like that and Diesels are WAY more maintenance than this rig too with little advantage.
Anyway, this is really one of my more favorite vehicles. Its great to load up with family and friends, tow things and look great in doing so. Pulling up next to any other suburban, even 2012 models, people look UP at you a just drop their jaw at this one with its flawless appearance and given the fact is a 2500 4x4. Not many like it on the road that are any decent shape. Being that I do not tow things for a living, it makes no since to use this as a daily car, thus is really just a toy for me that I use on occasion and display proudly with my collection.
CLICK ANY PHOTO FOR EXTREME BLOW UP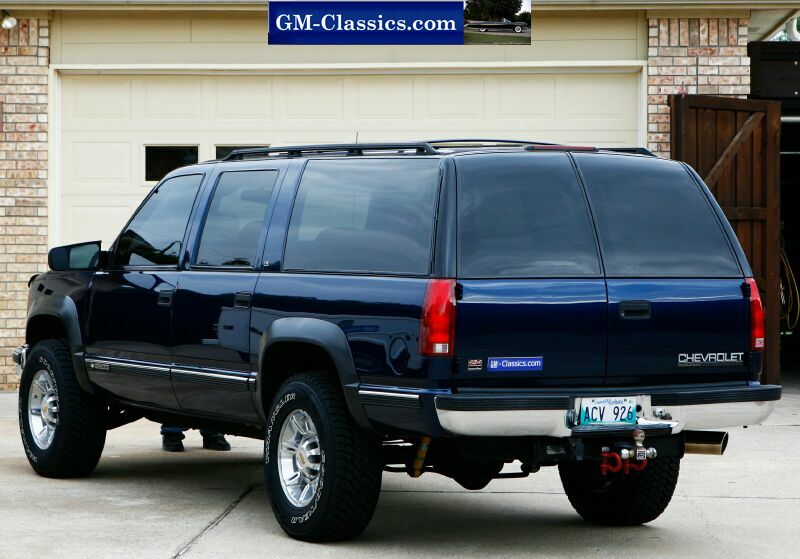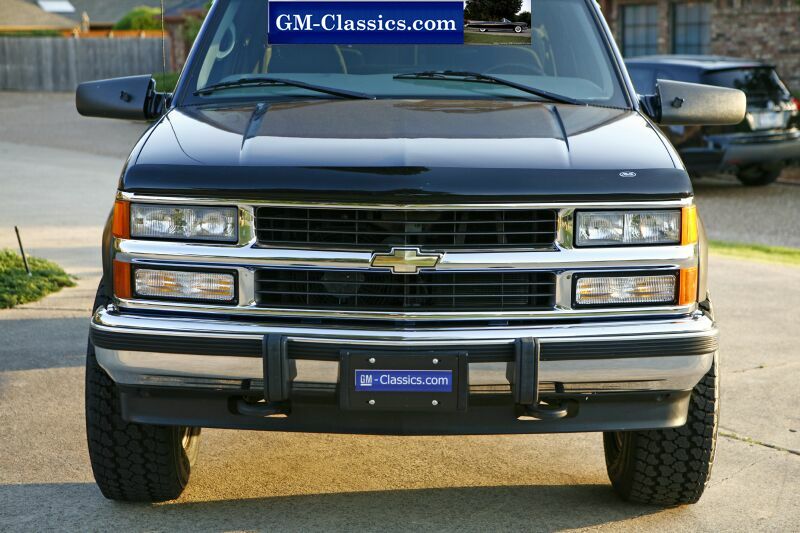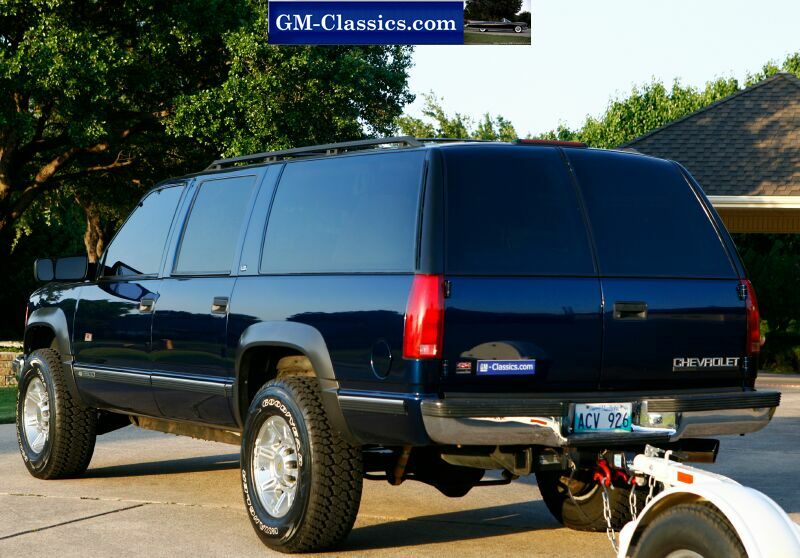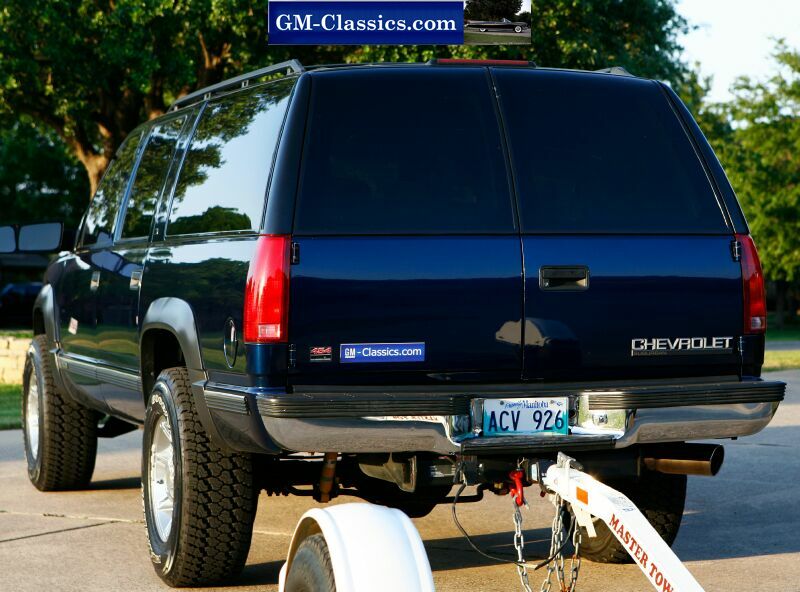 The GM-Classics.com is a magnet with felt behind it. Pops right on and off.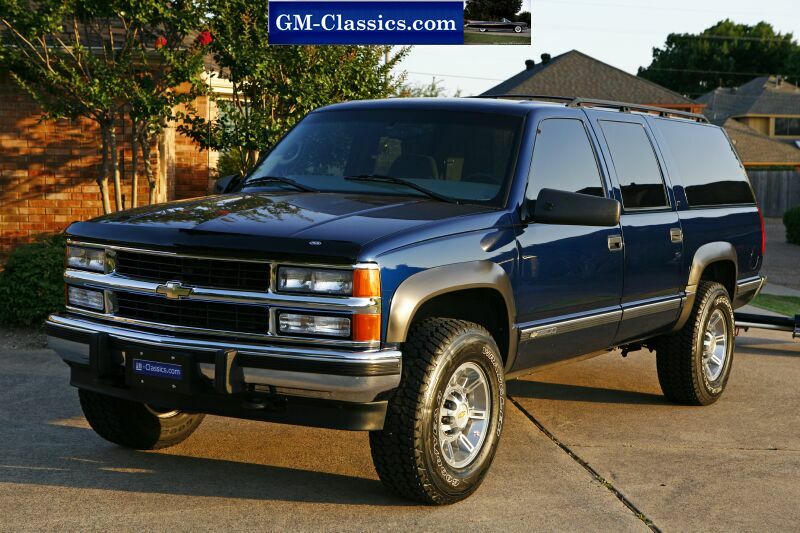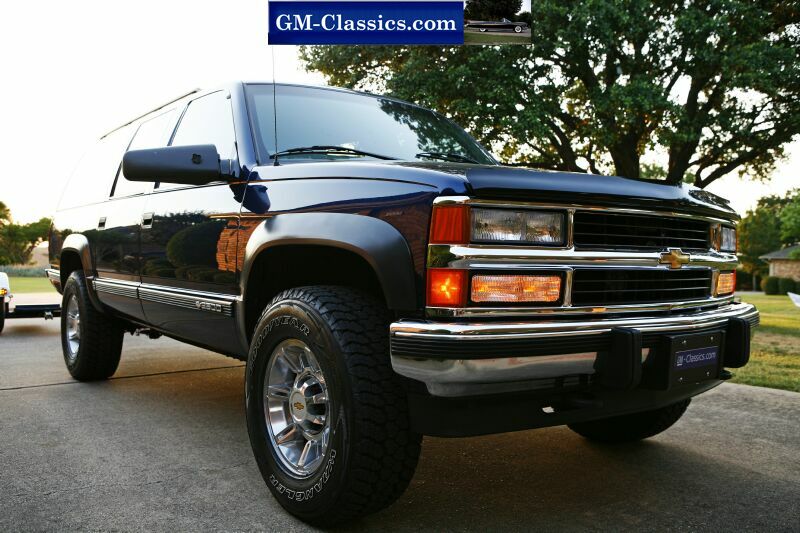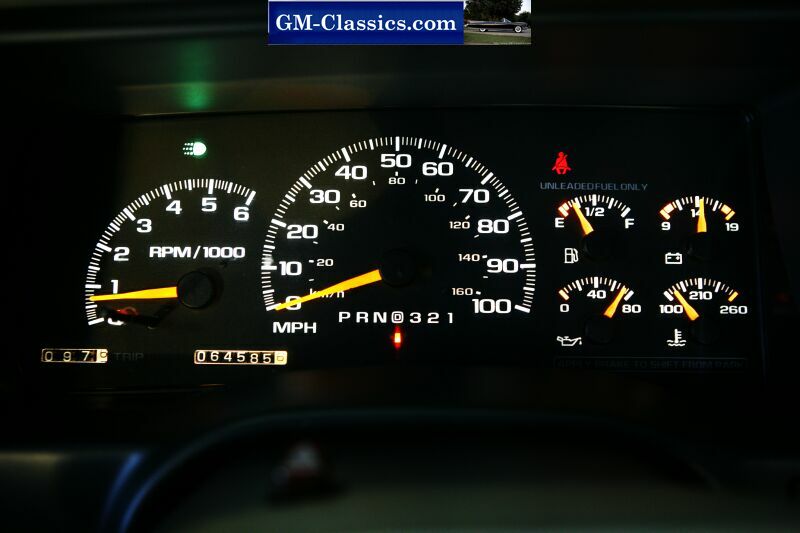 Sees about 1K a year now.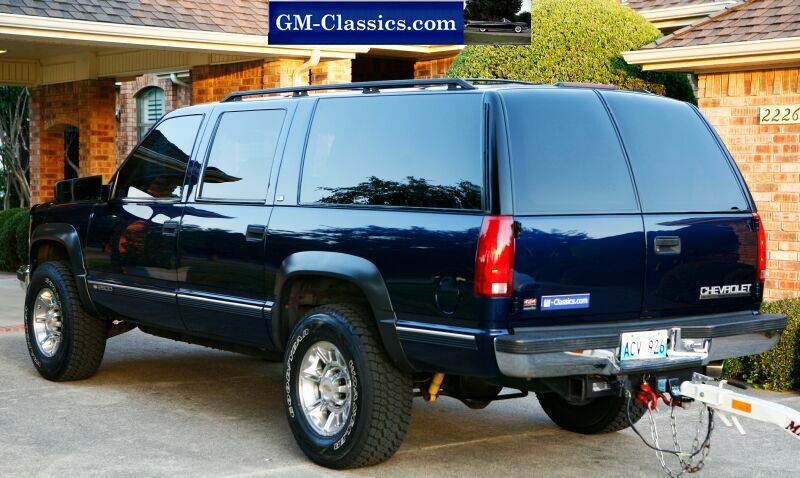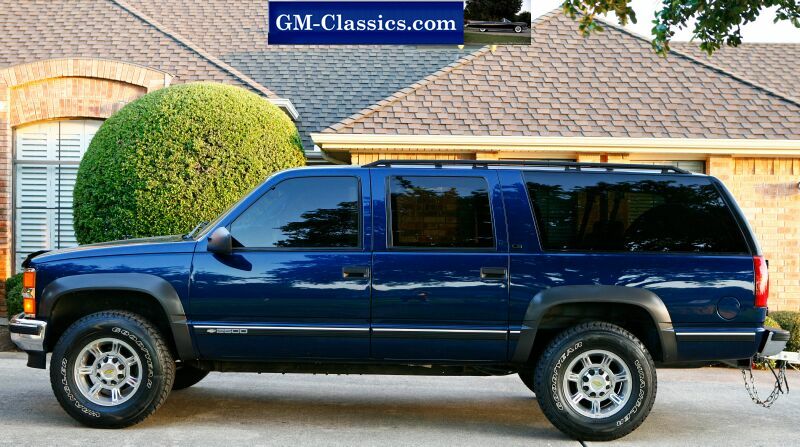 Above Addition, 5/2012.
So nice and 100% factory.... These are Factory GM 17x8.5 Hummer H2 Wheels with Factory 3/4 ton Center Caps and Goodyear Pro Grade 285/70 17 E rated Tires.
How much better do these wheels look using this cap vs the hummer flat cap??? I would say this is the best looking, best stance/width and offset HD 8 lug truck stock wheel ever produced by any auto manufacturer... Too bad it took us to figure that out for them vs their intended purpose!
BELOW, around 2004 with 16x8 Eagle Wheels. These are nice too.. but the H2 wheel is factory vs aftermarket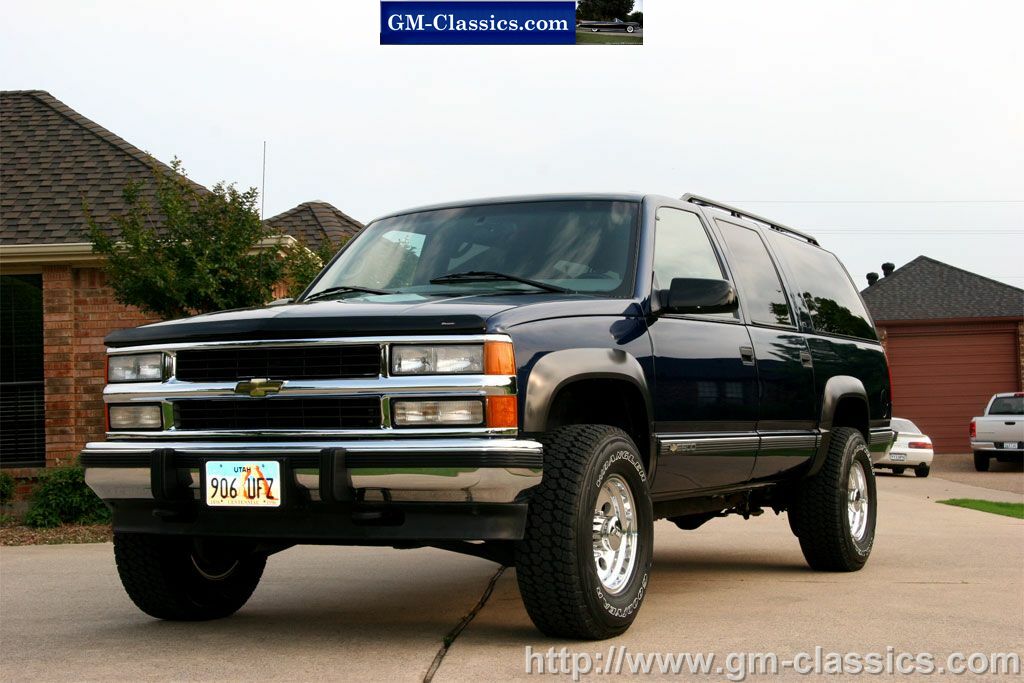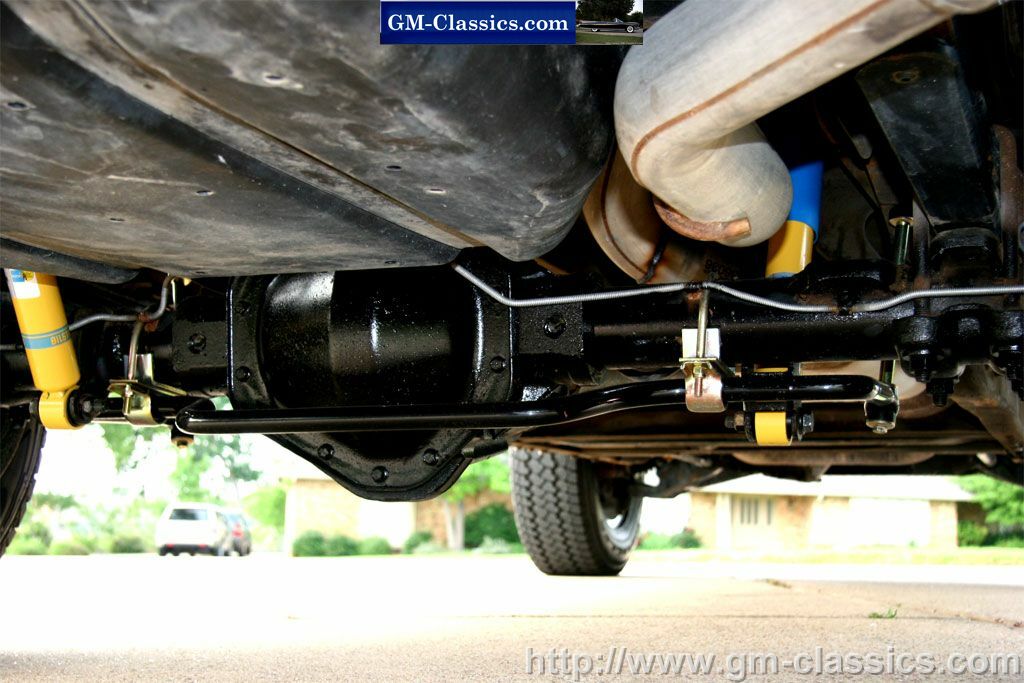 Below;  a very handy tool to have with collector cars and short local trips.

Thank you for visiting;

214-878-3823