1978 Cadillac Fleetwood Brougham
7.0 Liter - Mint Original
Matt Garrett - Dallas Texas - 214-878-3823
SOLD but Click Here for Current;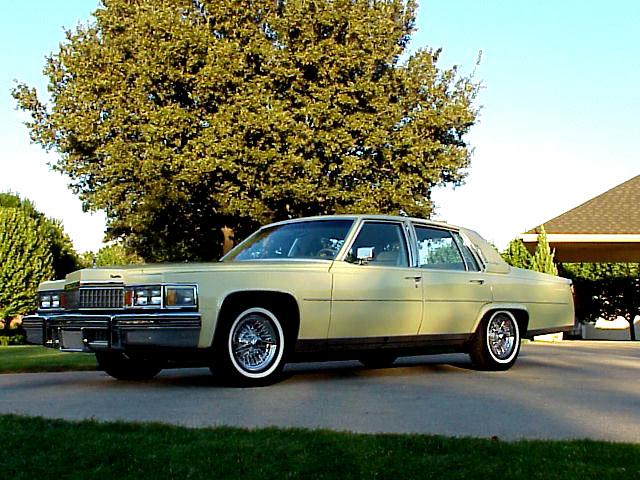 1978 Cadillac Fleetwood Brougham 50K miles. Rare and Desirable Colonial Yellow with Yellow Cloth Interior! This is quite a unique car for its condition, striking color and its incredible options. If you know Cadillacs, you know that this is the good 7.0 Liter 4BBL Cadillac Big Block Engine. The 77-79 Cadillacs boast the best power to weight ratio of any Fleetwood prior to the LT1 cars. These still have the LT1 beat on torque, so they really are better still and will most certainly outlast any LT1. The 77-79 also have a 12 bolt differential, TH400 Transmission and rear disk brakes! This is one incredible driving car combining incredible power, classic style and better hardware than muscle cars. The Big Block Cadillac Engines are the ones known for over 500K miles service too. Most people in the know will agree that the 77-79 Fleetwood's are the best driving full size Cadillac over any year Fleetwood to date.
This is a 100% original car loaded with pretty much all the right stuff. Nothing missing on the option list other than the Astro Roof. I can't help you there. Options also include Twilight Sentinel, AM/FM/8-Track, MINT factory wire wheels, HD cooling, Cruise Control with Long Range Gas Tank, Rear Defrost, and a rarely checked option of the Heavy Duty Ride and Chassis package. You can tell by how the car sits. This car does not handle like the Cadillacs you may remember, it has modern handling and control characteristics. This is the main reason I have it as a driver as its a cut above. The car also rides on a very expensive set of Broadway Classic Goodyear Radials. These tires are custom built for cars of this vintage with the proper white wall and not cheap. I probably don't have to mention what a mint set of Cadillac wires brings and these are mint.
The car has a garaged and extremely pampered history and shows in every aspect. The exhaust system is still original, so that should clue you in on its history. Rust obviously does not apply to a car of this caliber. The paint on this car is all original and sets it over the edge. It is near breathtaking leaving everyone asking you who restored this car. Its no restoration, its original. The body lines of this car are as straight as an arrow. Not a door ding one and I get pretty picky on that aspect. The rear fillers are the only thing replaced. Those are now fiberglass and of course painted across town from where the car was, then installed by me. Perfect match and you will not have to worry about these cracking. If you really know cars you will see that this is a 1978, but has the lower rear 1979 trim on it. When I did the fillers, I added this as it really looks so much better with the 79 rear trim. 2 screws and some clips, but VERY hard to find in any decent shape. They all should have been this way and that rear trim is the main difference from 78-79. All headlights are original too.
The vinyl top is original, perfect and as impressive as the paint. I could write a book on how impressive the interior, but I will let the photos talk. There are NO FLAWS on the interior other than the small cracks on the steering wheel horn section. Very typical of the best examples of these cars. Many people put the 80+ steering wheels on the cars, but I will let you decide as this one is still as good as you will see and it passes with me knowing how these are. The plastic chrome trim on the vents and dash that always gets discolored from people touching it, weather, etc is as new and as perfect as it gets on this one. Try and match that, its tough. The high quality cloth (much better than leather I might add) seats are flawless and do not show any signs of wear, much less being sat in for 50K. The headliner is perfect and without any sag. All in all you will not see a better interior on a 77-79 Fleetwood regardless of the miles.
You may notice an incorrect "touring suspension" emblem from an Eldo on the back of this car. This is there for two reasons. First, this car has the rare HD ride package as mentioned and it goes along with that option. Second, that is where the original and tasteless dealership emblem was placed by a past idiot at the Cadillac dealer when the car was new. I kind of like old dealership emblems in many cases, but this one was awful in its look and placement. This touring suspension emblem serves as a good "Cadillac" touch vs. repainting the perfect original trunk where that ugly emblem was placed improperly. Best I could think of keeping original.
Mechanically this car right. I drive it. The power antenna is original, straight and works! The AC system was redone by me. It worked when I bought the car but the damn Cadillac dealer that put that above mentioned terrible emblem on it also serviced the AC. They got cheap and retro fit 134A in the car by recommendation. If you know anything 134A does not cool as well as R12 in these old systems and is just a rig. Because I drove this car and because it had 134A in it, I scrapped the entire thing and went back with a new compressor, new receiver/dryer in the car using R12. The result is an air-condition system in a vintage car that can match most new cars. I hate to be hot so I did it right. Having this makes a great vintage car for a hot climate as the air is incredible and it also has the HD cooling package too. Sit in 110 deg traffic for hours if you need.
Everything else is original and works as new. The Cruise works right, the rear leveling works perfect, the trunk pull down is as new, the digital/mechanical clock works and keeps time, the optional economy - fuel minder light works.... The car is right. All "i's" dotted and all "t's" crossed. Given that, this makes a perfect driver that you can also show. Oh I think I forgot to mention the attention this car commands. Its in the top 1% of the many Cadillac's I have owned. Car and non car people alike always drop their jaws on this one. It is one of the few cars that people will turn around, find you then want to talk about the car. The color does it combined with the condition. I collect many cars as you can tell and usually keep one vintage car as a driver on nice days. I will have a very hard time finding another 77-79 to drive as nice as this.
Anyway, with that said, it is understood that this car is for sale. It will make a great addition to any collection, a perfect weekend driver and it is one of the best examples of a 77-79 Fleetwood as you will see. This is a 30 year old car with 50K easy miles that has NOT been restored but I have my name on it. If you follow any of my vintage Cadillac's, you should gain a level of confidence that this car is a cut above anything you will find in a driven but well kept car. It is right.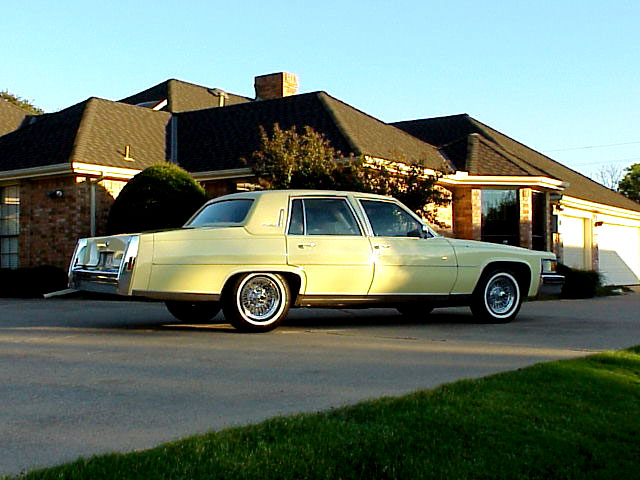 Front factory wire with Proper tires. These wheels are perfect.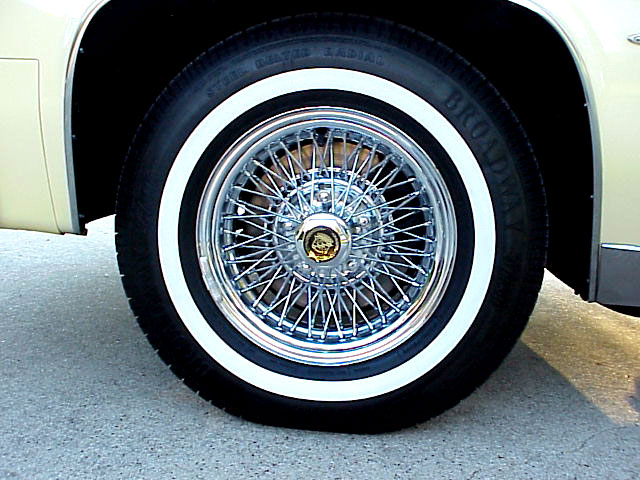 Straight as an arrow, concours condition body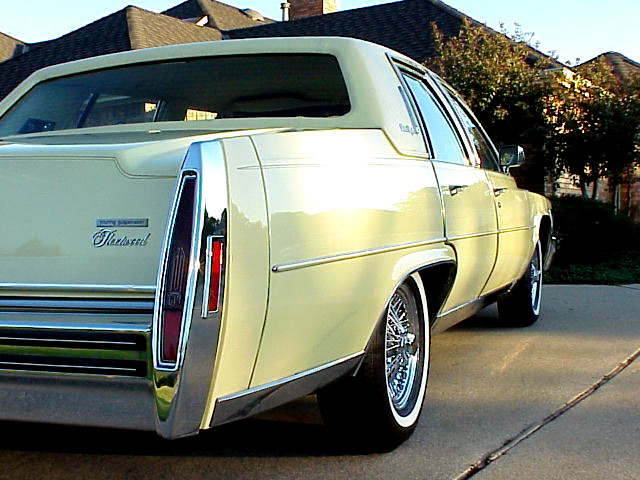 Other side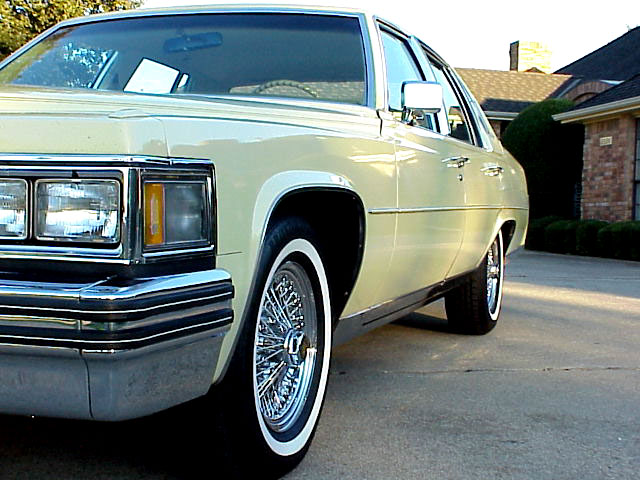 This is a good looking car!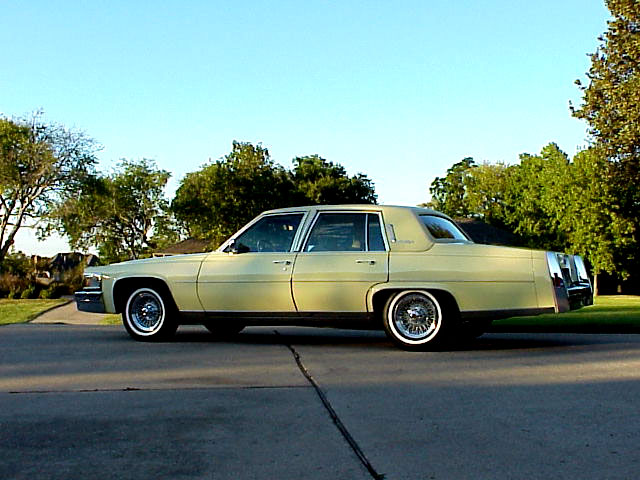 Note reflectivity on the trunk. Not many 30 year old original cars can do this at this level.
Hood paint PERFECT!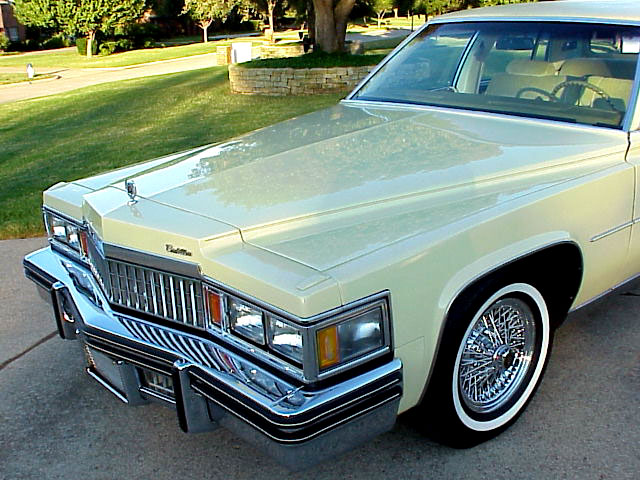 All chrome as new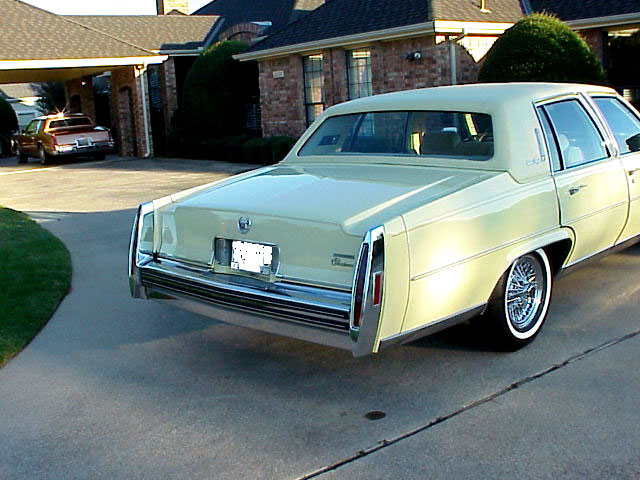 See new rear fillers with proper match and correct pin stripe match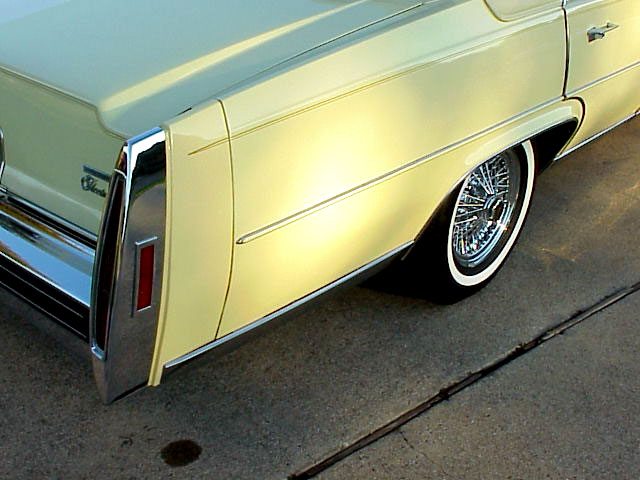 Other side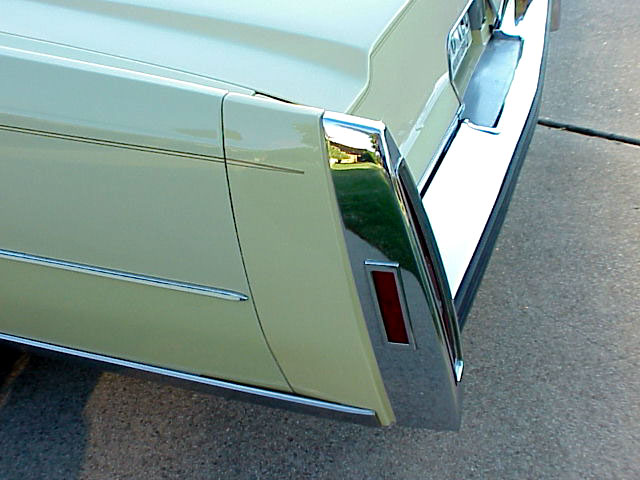 Hard to find this condition on a 2000 mile car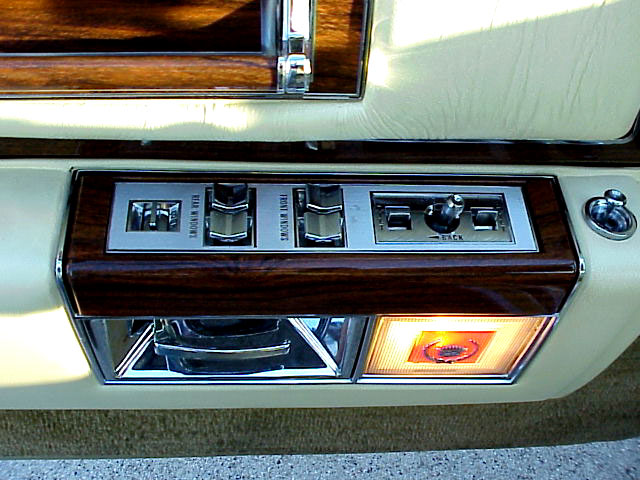 Dash plastic chrome trim mint, AM/FM 8-track works. Original Cadillac Tape included.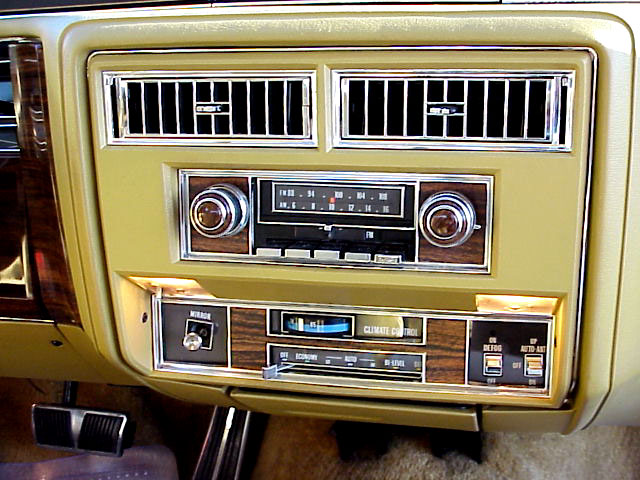 Yes, Rear disk brakes!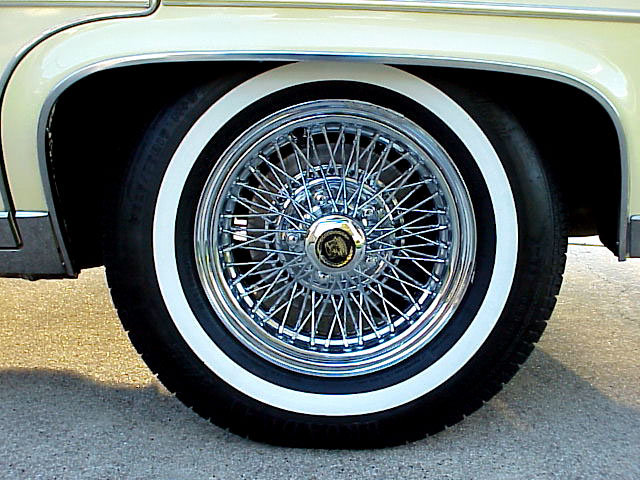 Original Exhaust and Resonator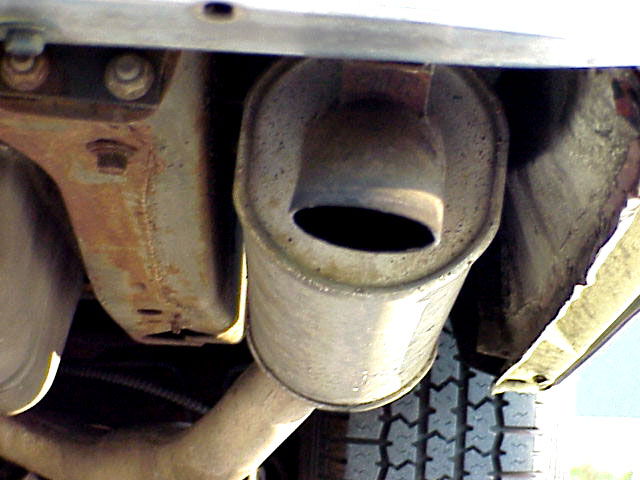 Not detailed and original undercarriage. Nothing covered up!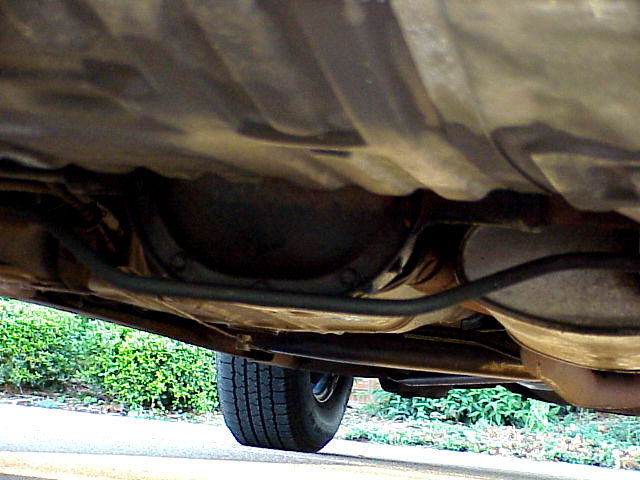 Touring Suspension Emblem to cover up original dealership emblem marks. It was tasteless.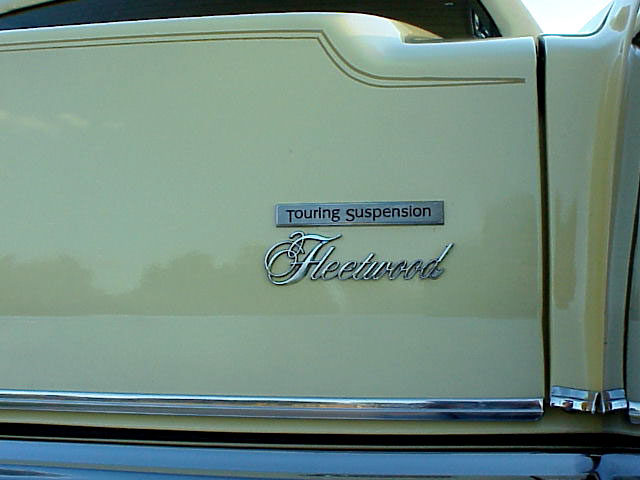 Door Jams are like new.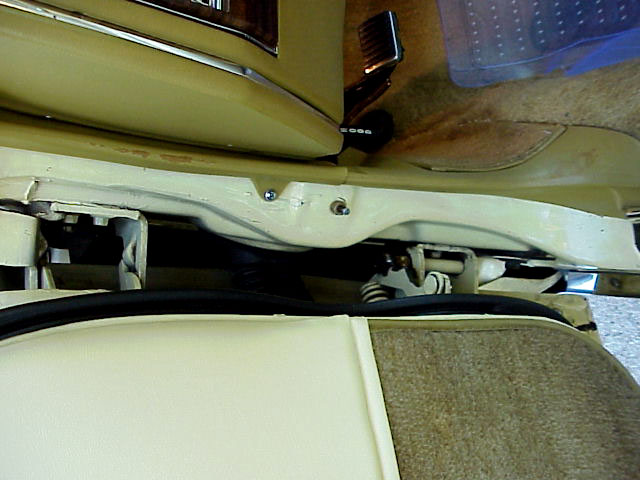 Trunk is mint, original spare never out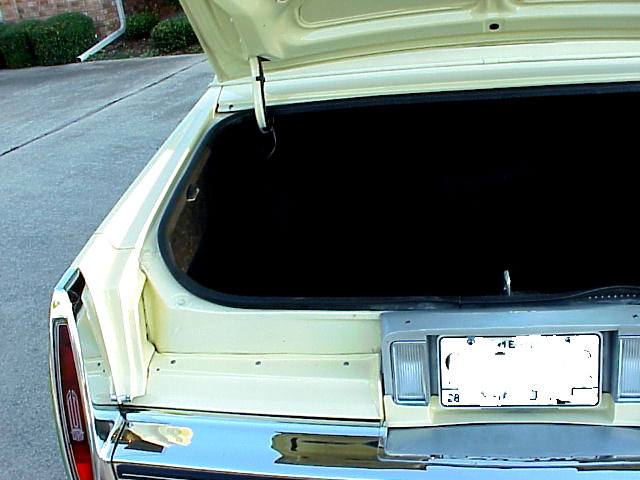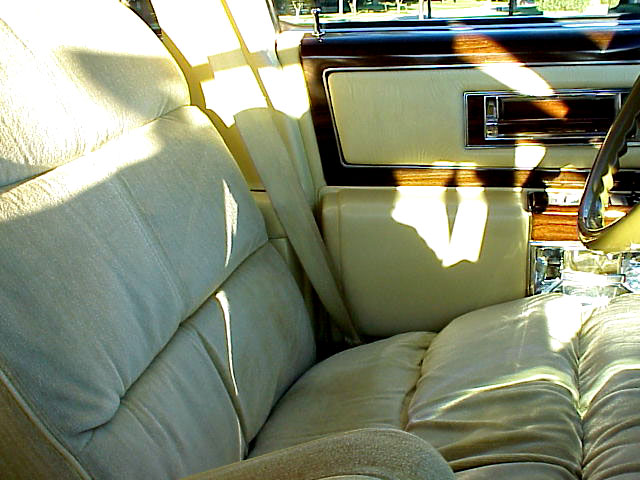 Antenna up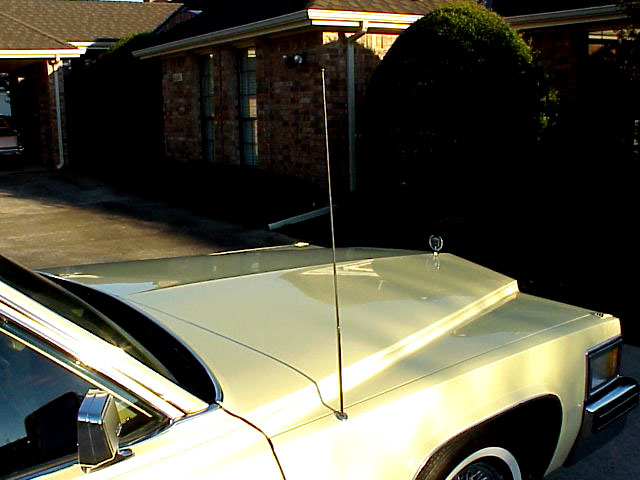 Antenna Down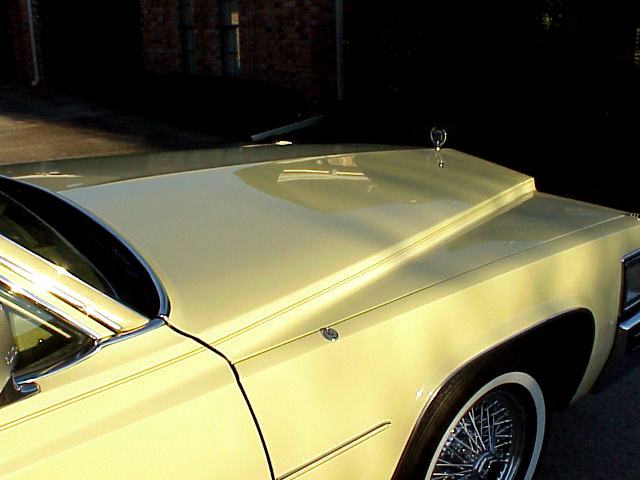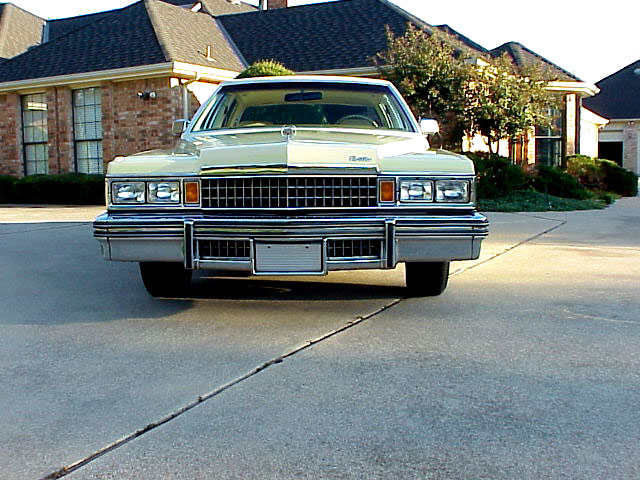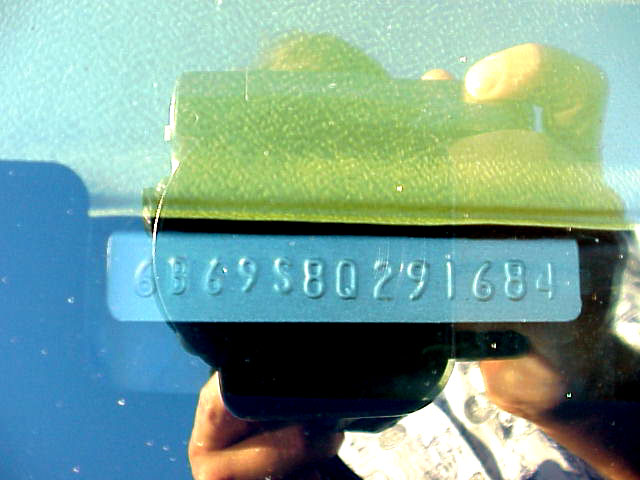 Original detail Engine Compartment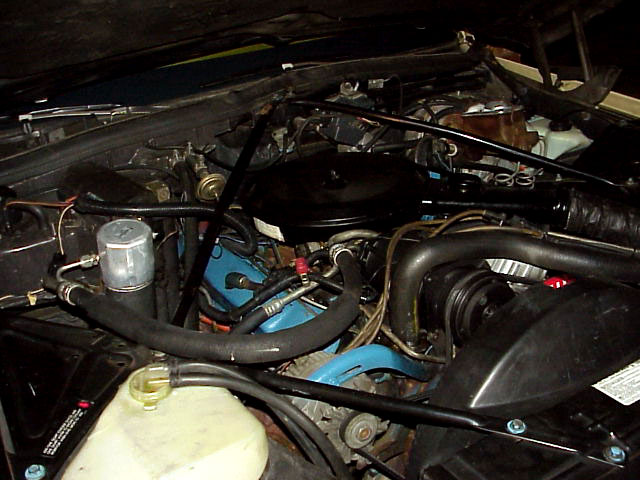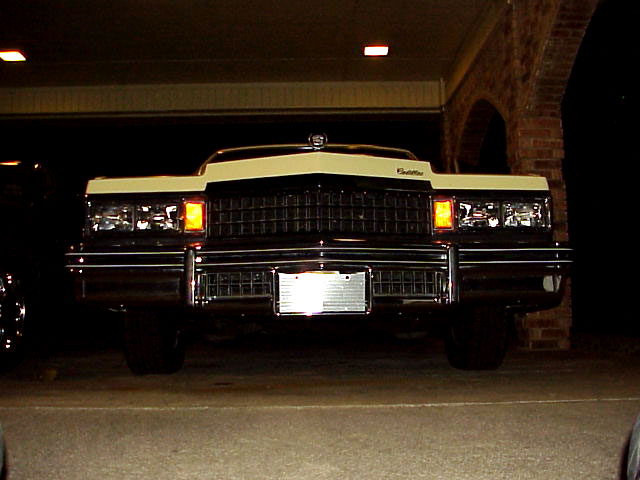 Perfect Top and working Opera Lamps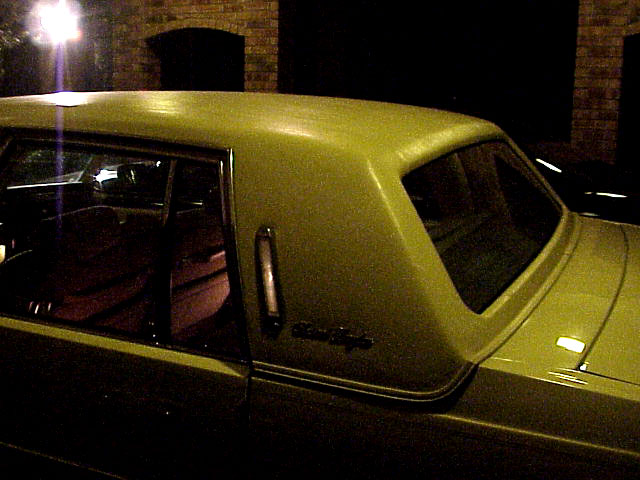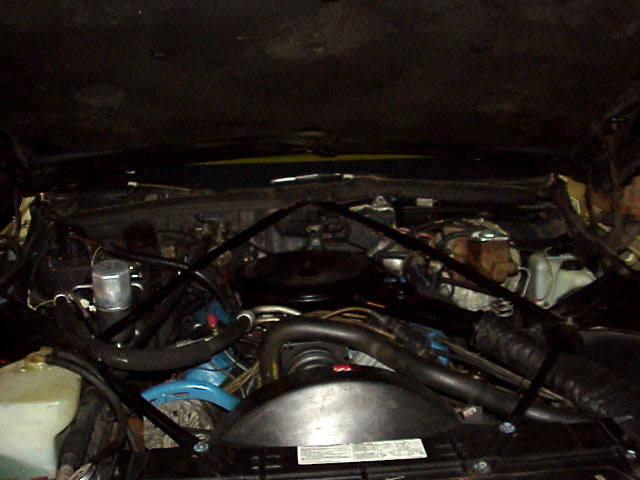 Flawless interior including flawless driver seat and driver door panel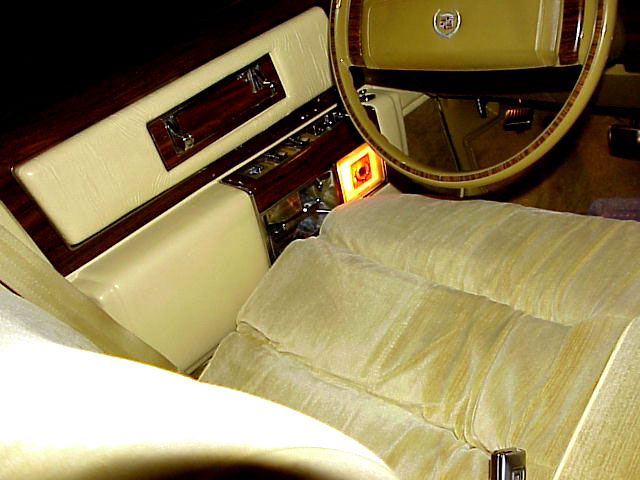 Plastic chrome trim is mint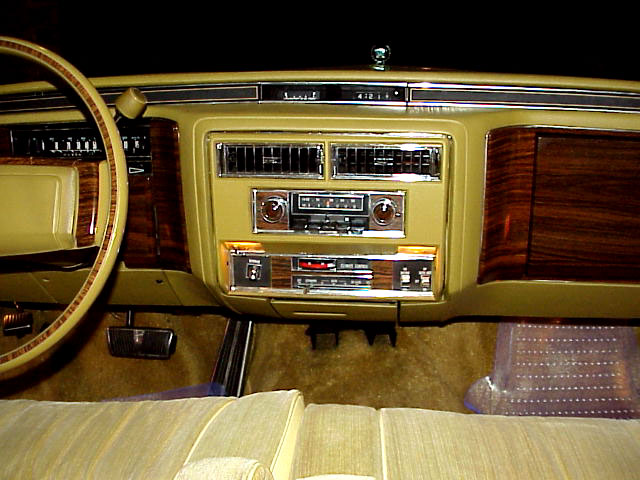 Wood grain flawless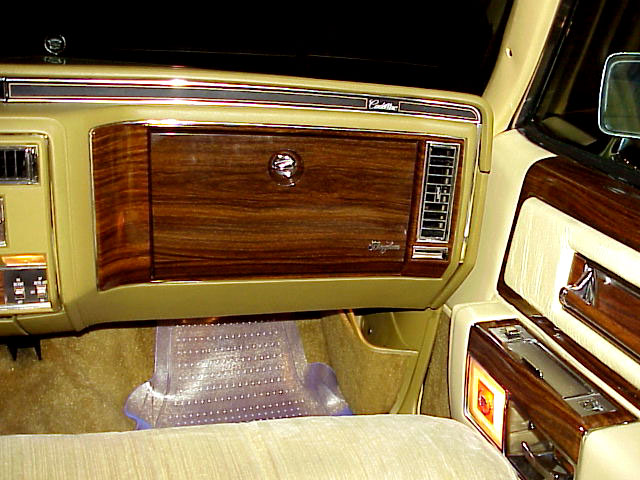 Yes, this is as good as it gets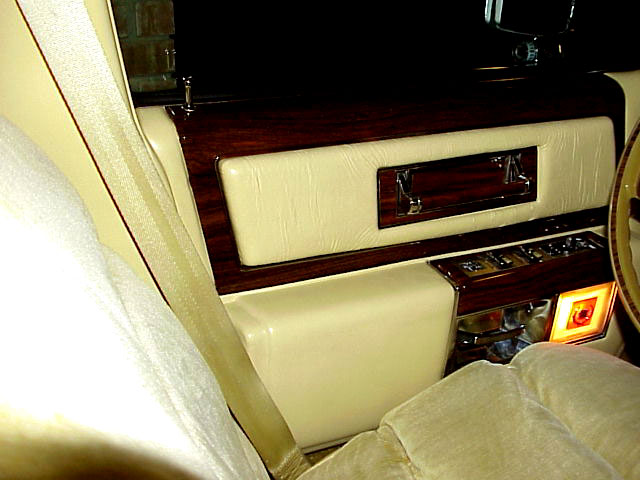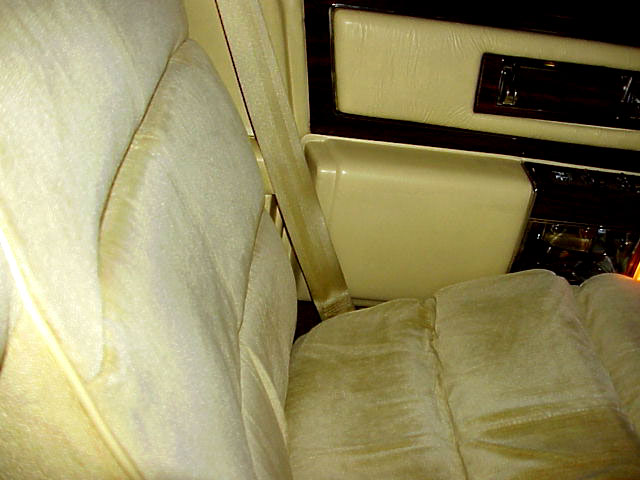 Again, flawless interior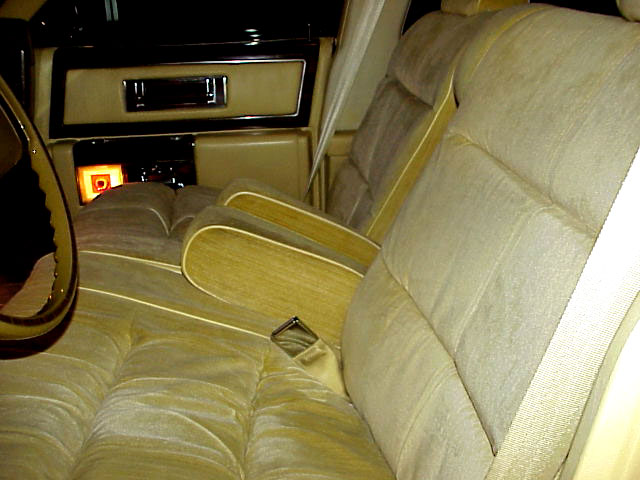 6 way power pass and driver seats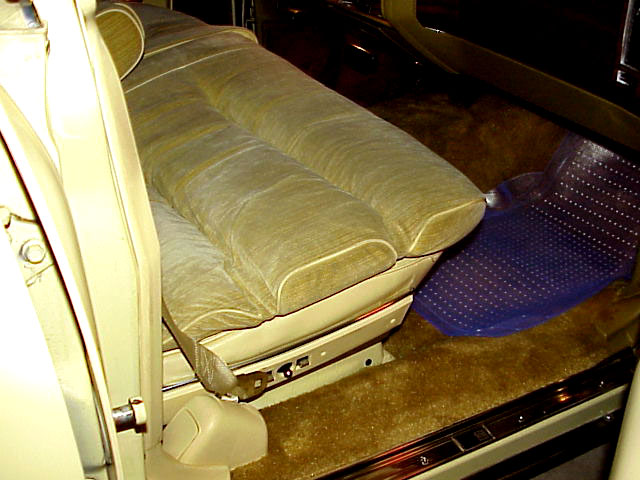 As good as the rest!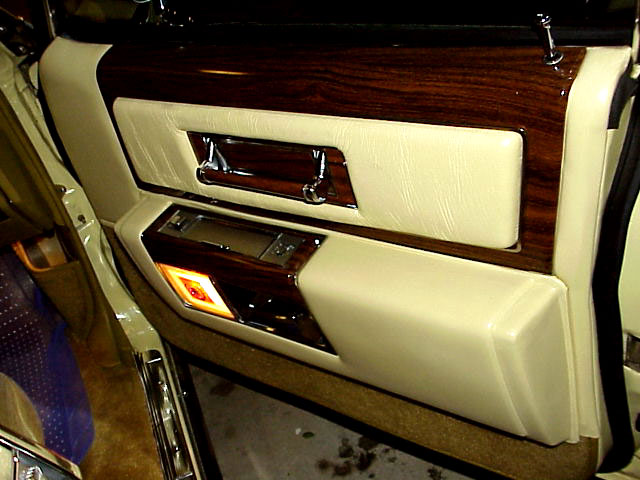 Mentioned and typical crack in steering wheel horn section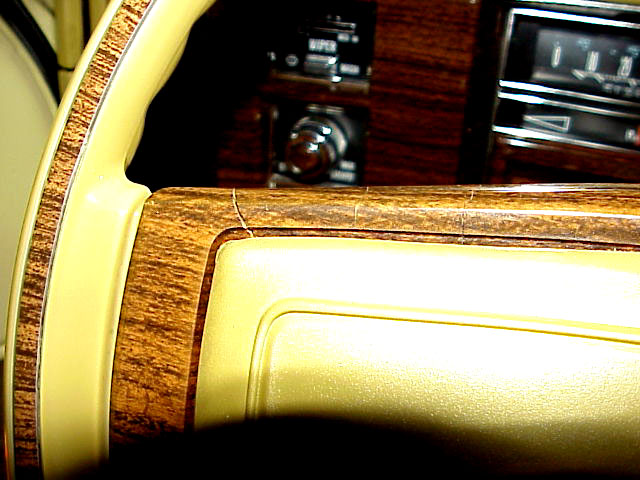 Absolutely as new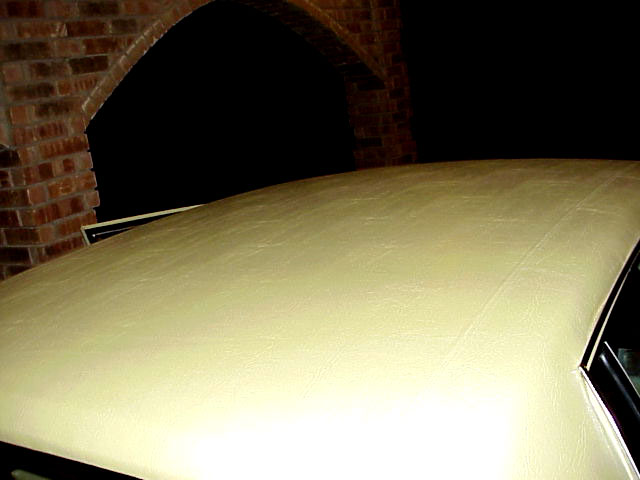 No sag and clean as new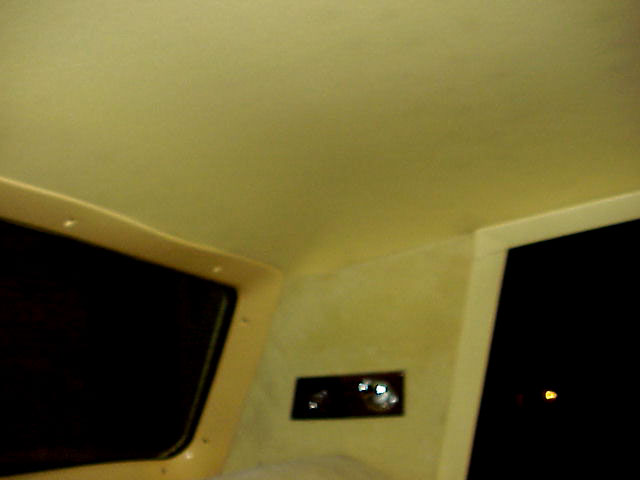 Not a mark or a wave much less a crack in the dash. As new.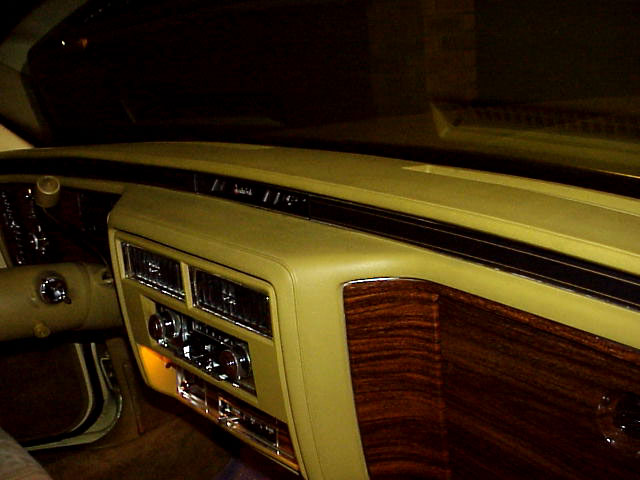 Flawless dash and cluster. No wear on pedals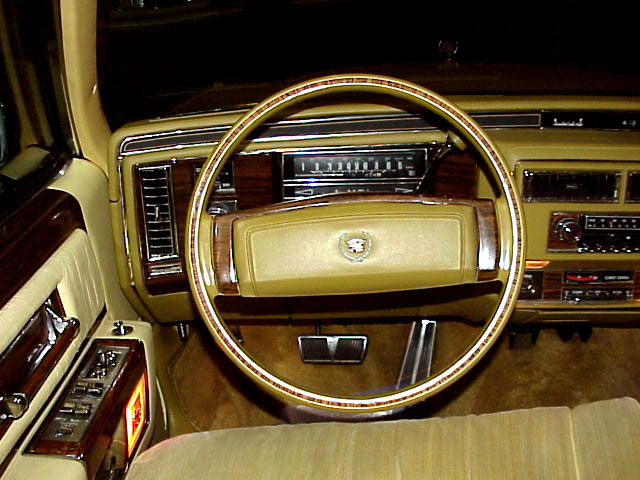 Trunk as New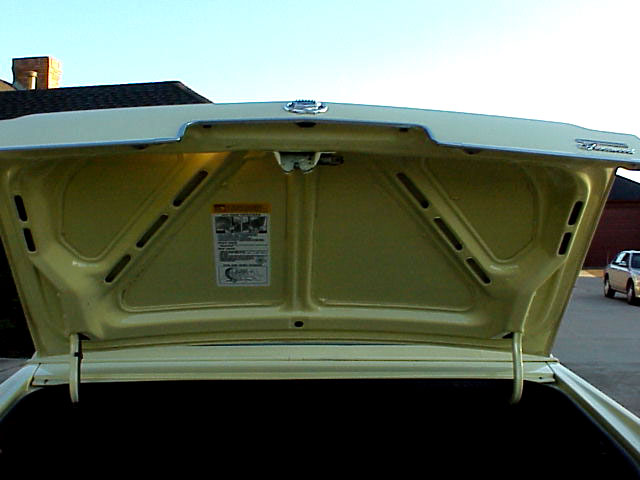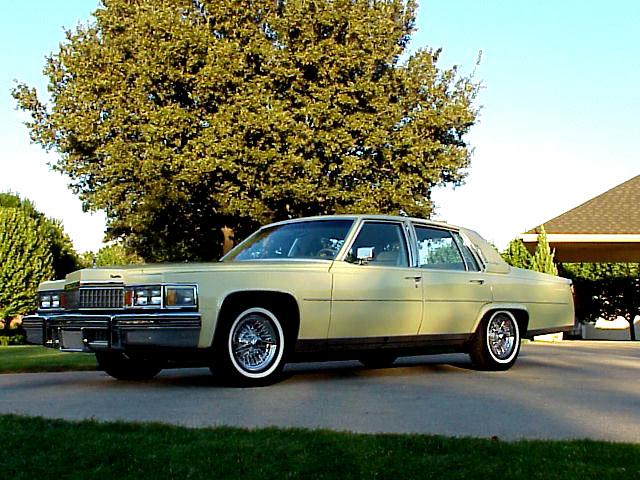 Click here for My Car Hobby Home Page
You can email me at Cadillacman@mcsmk8.com