1966 Cadillac Eldorado Convertible
Matt Garrett - Dallas Texas
214-878-3823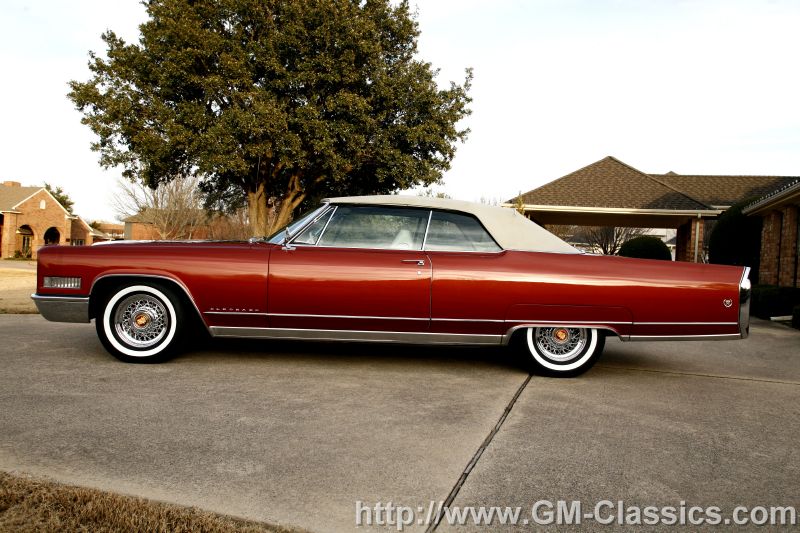 RETURN TO 1966 ELDORADO MAIN PAGE
1966 Cadillac Eldorado Convertible. Ember Firemist Red/Tan. Out of the 100s of Cadillacs I have owned in my life, the 1966 Eldorado is my personal favorite Eldorado convertible. They might not have the awe factor the 59-60s have, but this is the year they got it all right, and of course the last year on the low production run of RWD Eldorados from 53-66.
Given the world as my search and what many would say as an unlimited budget to find the best example of a 1966 Eldorado, this is the best 66 Eldorado that this planet has offered for sale in a many year conquest for me. I have known about this car for years and actually tried to buy it before unsuccessfully. Last year I was, but the price I had to give would make most people look for another model car like a #1 67 Corvette 427 or a #1 condition HO 67 GTO. When the facts are laid out, this car is more rare, and certainly built with higher standards than the two mentioned popular cars + was near 2X their price new. Believe it or not, these 429 cadillacs carried much of the same performance capabilities as some of the top optioned muscle cars. If you have never run up against a good tuned 429 cadillac with the switch pitch TH400, you never really raced cars in the 70s! My 67 GTO and my 455 Cutlass of that era were embarrassed a time or two back in those days by a car just like this but with 4 doors. Today is a different world as all of those cars are far overshadowed in performance by newer cars, but that is what made them memorable. What this car offers to me is a real glimpse of the 60s era without it having been reinvented as the other mentioned cars would have to be to compare in condition to this car. This car was bought by someone who could afford the best in 1966 and kept that way all its life. A GTO or Corvette was a different story. Even if you have a survivor, they certainly lack appeal that way. This is an original car that has survived the test of time with more integrity over any other single car I have run into from the 60-70 era. Being one of 2250 last year RWD Eldorados and optioned as it is makes it as rare of car as a collector could seek.
Having said the above, this is car is what I came up with. It was well worth it and I think you will see why. This is a very low mile (30s, real + documented) and extremely preserved one owner car that was lightly on the road central FL from 1966 until 1975. The owner then retired to Yakima Washington and stored the car in a perfect environment until late 2007. It still has the 77 FL inspection on the original window that I have left for posterity (put on in 76, expires 77). Since 1976 the car has had about 800 miles put on it to keep it running and in good order. His storage facility in Yakima provided one of the best climates to preserve a car for that many years as new. I cannot think of a better part of the world to put a car away. I always find the best cars in Oregon, Washington and BC Canada. If human hands have not destroyed them and humans have not driven the wheels off of them, the environment of the Pacific NW is temperate, so no heat damage, cloudy so no UV damage, no harsh winters heating-cooling damage, and most of all no rust, humidity, corrosion and all of the other things I see daily on cars I search the world on that are claimed to be "perfect". This car IS as good as they get and was stored properly.
The photos should show this car as one, if not the nicest near 100% original 1966 Eldorados ever. Needless to say, the actual original condition that this car was in when it went into storage and came out looks like a 3-4 year old car that is as well kept as a car can be. I have had this car for a bit and have yet to unveil it in fear I might get an offer I cannot refuse as I did on my Blue 66. I no longer have that blue car, and that car was a very hard act to follow in the condition it was in with 18K miles. This car does it in every manner then some, but also comes with things the blue car did not have in terms of options. This car is a full load of everything available. Not only is this car beyond extraordinarily preserved, it is truly as desirable of wish list as one could get in a good color and all options.
1966 Eldorado, Cadillac OHV 429CID/340HP. TH400 Trans with variable pitch torque converter, 3:21 rear ratio and controlled axle. (these cars are capable machines) Options are; Bucket Seats, Headrests, Console, AC, Cruise, Twilight, Auto Dimming, Power Vent Windows, Both Side power seats, passenger recline!, AM-FM Stereo 4 speaker (first year)! Front + rear seat belts, + all the things like PW, PS, PB, Tilt, Telescopic, Rear Level System, Power Antenna, Auto Climate Control, Power Top, etc that was available on the Eldorado. 1966 was also the first year for the variable assist power steering with the aux steering cooler, of which this car has too. 2250 Eldorados were produced for the last RWD year in 1966. Out of those, less than 10% are said to have the bucket seat/console option. Also 10% are said to have the headrest option. Headrests were available across the board on all seats, but not many cars got it. This one did and on buckets. According to many collector sources and registries, there are said to be about 300 1966 Eldorado Convertibles left in any collectable or restorable condition worldwide. With those #s, that would say 30 cars are out there with bucket seats that might still be pretty nice.
The nice thing on this car is EVERYTHING works and nothing has had to be repaired to make if function. Even the temperamental level ride works and still has original shocks in the back and original vacuum compressor. The original belts are still on the car as of right now as with upper and lower rad hoses. The power antenna works like a charm and is straight as an arrow. The cruise works like new and the temperamental transducer ran climate control system is that of a new 1966. Best I have seen period with this many options and all working as new! Needless to say, the bottom of this car is that of a well kept 1966 southern car as it would have been in 1969. I have yet to see a 60s convertible with the bottom of this car as it came without a little cleaning, etc. The blue car was close and so is my 1960 Eldorado, but this car has not been tampered with in any way and is as perfect as a lightly driven car could ever show. Things like rust or even the slightest corrosion damage do not apply to a car of this caliber. Again, probably the best untouched 60s undercarriage as I have seen.
The convertible top is original! Many people claim to have "original" tops on their cars. This one is the 1966 factory installed on they assy. line top, never worked on, never changed, glass original rear window and still as good as a 1 year old garaged convertible car 40+ years later. I have never seen anything like this convertible top to date.
The interior has had no make over. It is as you see it untampered with. Photos should tell the story. Just another anomaly in how things can last the test of time and still be pretty much as new without any fix up, modification, doctoring, etc. It took a good environment and a good bit of discipline over a mans life to keep the car this way for 40+ years.
Ok.... now the big question! Does this car have original paint! Happy to say no on this one! You can see an original photo of it below and it looks pretty impressive with its original paint. Even though the paint was very good and ultimately impressive for a 42+ year old car, it would not have satisfied the world of total perfectionists. You could go to a "survivor class" and blow anything away, but that is not what I wanted and not what most collectors want to see. I wanted perfection as probably most of you reading this do too. Well that simply does not exist on its own from 1966 without a little help. What I had to do was nothing but the best thinking out very hard how to do it first. First, the car was PDR'd over a good weeks work. Even though this car was pretty much perfect, there are waves and ripples built into these cars at the factory that people just forgot about when they see restored cars. Most collector level 60s cars look better today than when they were new, and this car is no different. In fact its way better. I had waves eliminated along with a few small dings the car had picked up in its 43 years. PDR = no filler! The car was then partially taken apart. When I say this, I did not want to alter this car at all and wanted to be able to claim this car is untampered with, so it was well thought out on how to put the best finish the least intrusive way possible. The jams are 100% original, under the hood is too. All that was perfect so there was no reason to reinvent something that shows the real originality of this car. Nothing was taken off other than trim, emblems, etc and the prep work was extreme in order to keep from being intrusive to such an original car but make it look like the paint was done as the factory would have, only looking better. No one has screwed up the door, fender gaps. They are original and perfect and un touched. Over a good bit of time and $15,000.00 later from one of the best places known, you are looking at the end result of one of the most perfect examples of a 1966 Eldorado as has ever been on this earth that is still mostly an original car, interior has never been touched, under hood has never been touched, trunk 100% original, but now with a better than ever least intrusive original color refinish.
Wheels and tires are of course not original, but an absolute must to have a car look this striking.
All in all, the photos should tell the story and I will be adding more info and images on this car soon, so check back for interior, engine and undercarriage! These will really be impressive!
RETURN TO 1966 ELDORADO MAIN PAGE
66 Eldorado Basic Information
The end was near for the traditional rear-wheel drive Eldorado which went out this year with a bow. Sales of 2250 were topped only by the 1955 model. The '66 Eldorado was very similar in appearance to the 1965 model; again a wreath and crest were affixed to the rear fender and small Eldorado block letters were in the usual position just behind the front wheel openings. The final rear-wheel drive Eldorado was priced at $6631.
Engine
V-8 Overhead valves

Cast iron block

Displacement: 429 cubic inches

Bore and stroke: 4.13 x 4.00 inches

Compression ratio: 10.5:1

Brake horsepower: 340 @ 4600 rpm

Five main bearings

Hydraulic valve lifters

Carburetor: Rochester four-barrel type, model 7026030
Chassis
Wheelbase: 129.5 inches

Overall length: 224.5 inches

Front tread: 62.5 inches.

Rear tread: 62.5 inches.

Automatic level control standard where indicated in text

A new engine mounting system and patented quiet exhaust were used.

Tires: 9.00 x 15
Convenience Options
Air conditioner ($495).

Controlled differential ($54).

Power vent window regulator option ($73).

Radio with rear speaker ($165).

AM/FM radio ($191).

Rear seat belts ($18).

Adjustable steering wheel ($91).

Twilight Sentinel standard

Five white sidewall tires 9.00 x 15 size with four-ply construction standard
History
Best ever sales and production year in Cadillac history.

Second year running for sales increases, despite a downturn in the overall market for U.S. cars.

First season for delivery of more than 200,000 new units.

A record of 5,570 one-week builds was marked December 5 and a record one-day output of 1,017 cars was achieved October 27.

The 1966 models were introduced October 14, 1965.

Towards the end of the summer 1966, a new assembly line was setup to manufacture front-wheel-drive Eldorados conforming to 1967 model specifications.